Tramontina Churrasco 12 Piece Jumbo Steak Knife & Fork Cutlery Set Wooden Handle
Tramontina :- Churrasco 12 Piece Jumbo Steak Knife & Fork Cutlery Set Wooden Handle
Tramontina's Churrasco Line offers wooden handles that resist time and moisture, and stainless steel blades guarantee the perfect cutting of the meats.
Part of the Tramontina Churrasco range.
5″ Stainless steel blade with micro-serrated edge.
Treated wooden handles.
Made from FSC approved wood from well managed forests.
Dishwasher safe.
Made in Brazil.
Contains: 6 x Steak Knives and 6 x Forks.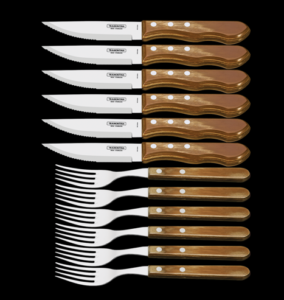 For quantities and order requirement click More Info