We Export so you can Import to your country, container loads of graded and checked raw returns electrical appliances & housewares
We specialise in selling refurbished, graded, ex-display, clearance and used customer raw returns stock in job lots, single pallets or complete container loads.
We have many years experience in export sales and are able to offer a number of options for overseas customers wishing to import from the UK or those based in the UK exporting goods abroad. Whilst we do sell pallet loads we find that most of our customers prefer to self select  pallets of products to make a container load to suit their market.
We offer good discounts for volume orders once you've chosen what you are buying and how many. We work out the discount once we know these two key factors. Therefore, we would encourage you to come and visit our vast warehouse and select your own range of products.
We do have container lots from time to time but we have found from experience the vast majority of our clients prefer to select their own pallet mix and tailor make a container to suit their own particular market.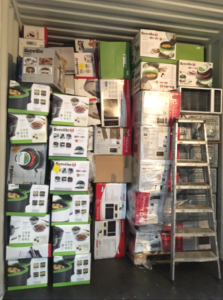 Export orders are based on a minimum order of £5,000 and are subject to approval of your bona fide shipper and all relevant documents.
We do not sell individual pallets to non-genuine exporters. Branded Housewares is an active brands protection exporter.
In most cases if you are shipping to outside of the UK you will need either a 20 foot or 40 foot container to ensure shipping is cost effective. We can arrange container shipping for you, however, you are welcome to arrange collection with your own carrier. To ship a carton or pallet is normally very expensive so we don't usually do this.
If you are importing to Eastern Europe, Africa or the Middle East we have experience of what can and cannot be shipped along with the paperwork required.
We can load and pack containers for you or assist your own staff with loading.
We can help with and advise you on all export regulations (eg. current WEEE regulations).
We can advise and help you deal with all export documents, including Bills of Lading, CMR's etc.
So if you are looking to buy and import container loads of bulk used and returned appliances at discount prices, we can help you through the export process and load your self selected container from our warehouse in the UK.
Example Loads
Please click here for example load lists of products current in stock
Above are examples of a typical "customers own self-selected" mixed container load