Black Decker Multi 750W Submersible Water Pump Garden Pump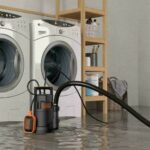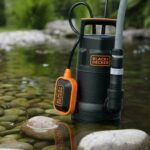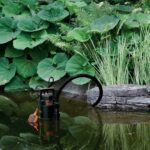 Black Decker Multi 750W Submersible Water Pump Garden Pump (BXUP750PTE)

The BXUP750PTE is a handy submersible water pump complete with robust thermoplastic body and floater switch for clean & dirty water which will:

Remove water caused by flooding or leakages.

Drain water from Ponds Wells and Basins.

Drainage of domestic waste water.
Emergency situations, minor inconveniences caused by the leakage of water in the garage or cellar, can be easily solved thanks to the Black and Decker BXUP750PTE submersible pump ; small, compact, robust and powerful is the best electric tool to eliminate light and dark water in the home. Its main features are:
The handle integrated to the pump is very practical to hook it to a cable or a rope and be lowered into tanks, wells, tanks to be emptied; in case the pump is used to suck water from ponds or dirty surfaces it is important to keep it raised from mud and slurry and place it on a brick or similar floor.
Key Features & Specification:
Robust thermoplastic construction allows for resistance against corrosion
Float switch allows for both standard submersion or automatic operation
The abilty to pump both Clean and Dirty water
Three interchangeable fittings allows for the correct diameter when selecting the flow rate
Product Specs
PRODUCT TYPE  Submersible Water Pump
POWER RATING 750.0 W
MAX. FLOW RATE             13000.0 l/h
MAX. DELIVERY HEAD HEIGHT     8.0 m
MAX. SUBMERSION DEPTH           7.0 m
MIN. SUCTION LEVEL      5.0 mm
CONNECTION THREAD   G1"; G1-1/4"; G1-1/2"
CABLE LENGTH  10.0 m
WEIGHT               5.24 kg
USES
To remove water caused by flooding or leakages
To drain water from Wells, Basins and Pools
Drainage and transferring of domestic waste water
INCLUDES
750W Multifunction Submersible Water Pump
Available Stock = 50 pieces
Wholesale Prices on Application
For quantities and order requirement click More Info