Einhell 4257214 Combi Drill and ScrewDriver Twin Pack 18V 2 x 2.0Ah Bat
The Einhell Power-X-Change Cordless Impact Drill & Screwdriver Twin Pack, contains the following:
1 x 18 Volt TE-CD 18-2 Li-i Power X-Change Combi Drill is a powerful and versatile tool for screw-driving, drilling and hammer drilling jobs. It has a robust, long-lasting 2-speed metal gear box for high torque and torque slip coupling that prevents over tightening of screws.
Chuck: 13mm Keyless.
No Load Speed: 0-320/0-1350/Min.
Max Torque: 48Nm 25 Settings.
Capacity: Concrete: 15mm.
Weight: 1.76kg.
1 x 18 Volt TE-CI 18 Li Power X-Change Impact Driver is fitted with a unique triathlon motor that is powerful and efficient for the highest demands in power-sapping screw-driving jobs. The special impact mechanism eliminates any torsion force on the user's wrist. Short, lightweight design with ergonomic soft-grip surfaces and a rugged aluminium housing with additional rubber supports for increased protection.
Bit Holder: 6.35mm (1/4in).
No Load Speed: 0-2,300/Min.
Impact Rate: 0-3,200/bpm.
Max Torque: 140Nm.
1 x 18 Volt Power-X-Change Charger that features a 6-step charging condition display and is ready for wall-fastening. The charger uses an intelligent charging-management-system for long battery life (battery status will be constantly checked and accordant loaded, a deeply discharged battery will be charged in repair mode).
Input Power: 240 Volt.
Output Voltage:21 Volt.
Charging Time: 1.5Ah: 30 Min, 3.0Ah: 60 Min, 5.2Ah: 130 Min.
Weight: 0.5kg.
Also comes with 2 x 18 Volt 2.0Ah Power X-Change Li-Ion Batteries and 1 x Tool bag.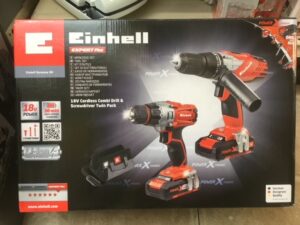 For quantities and order requirement click More Info